Za'atar Bread a popular street food item throughout the Middle East. Za'tar is a middle eastern spice blend made with a combination of sesame sumac which is a lemony flavored seasoning. Za'tar bread is like pitta bread instead after the pitta is rolled flat the seasoning mixed with olive oil is applied on top of the pitta bread then baked. You can make your own za'atar spice blend, or you can buy it in middle eastern grocery stores.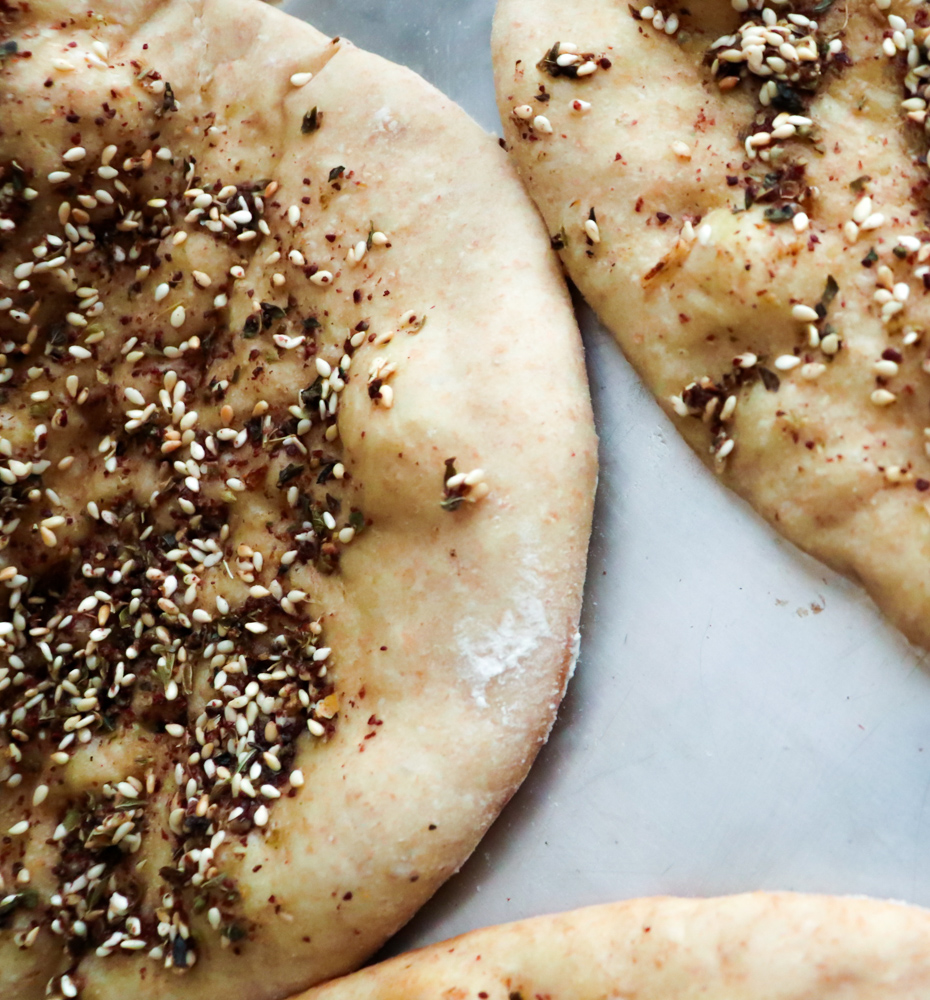 Za'tar Bread
Ingredients
3 1/2 cups All-Purpose Flour
2 tablespoons olive oil
1 1/4 cup water
1 tsp sugar
1 tsp salt
2 tsp yeast
Topping:
3/4 cup extra virgin olive oil
3/4 cup Za'atar spice blend
Instructions
Combine all of the ingredients, knead the dough, for 10 minutes until smooth.
Place the dough in an oiled bowl, and allow it to rest for one hour or until it doubled in size. Punch down then let it rest for another 10 minutes.
Preheat the oven to 500F Place pizza stone or baking sheets in the oven.
Divide the dough into 8 pieces shape each piece into a smooth ball. roll each piece into a 9-inch circle and place on a lightly greased baking sheet and allow them to rest for 15 minutes covered.
with your fingers make Make some gentle indentations to prevent the dough to puff up. In a small bowl mix za'atar spice blend and the olive oil. Then Spread 1 tablespoon of the Za'atar olive oil mixture on top, and spread the topping using the back of the spoon.
Bake the Za'atar Bread for 5 to 10 minutes they should puff up if not wait a little longer.
Wrap in a clean dry cloth or store in an airtight container, or freeze them for up to 1 month.