If you want to switch up your rice game this fragrant yellow turmeric rice is the recipe for you. It will instantly take any rice dish from average to mouthwatering. You could accompany this rice dish with your favorite curry be it chicken or lamb, if you feel more adventures then it also goes very well with fish curry.
Yellow Turmeric Rice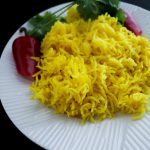 Vibrant yellow turmeric rice made with long grain basmati rice
1 cup of basmati rice
2 cups water
1 small onion (chopped)
1 teaspoon salt
2 tablespoons oil/butter
1 tablespoon ginger (chopped)
1 teaspoon turmeric powder
1 teaspoon cumin seeds
Rinse the rice in 3 changes of water. Let it soak for 30 minutes.

in a sauce pot heat the oil add onion cook until the onion is soft add the ginger cumin seeds and the turmeric mix until fragrant.

Drain the rice and add to the pot and mix season with salt and pepper add the water and mix.

Bring it to a boil cover and turn the heat down and let it simmer for 15 minutes or until all water is absorbed by the rice.

Fluff with a fork before serving.