Easy Vanilla Pound Cake, for the best result cream butter and sugar,  at high speed and then add the eggs one at the time too until good volume forms.
Pound Cake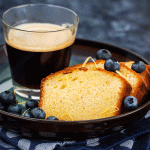 Easy Vanilla Pound Cake
1 1/2 cup self-raising flour
2 sticks unsalted butter
1 cup sugar
5 eggs
2 teaspoon vanilla
1/2 teaspoon salt
Preheat oven to 350. Butter and flour a 6-cup (8 1/2-by-4 1/2-inch) loaf pan; set aside.

Beat butter and sugar together in a bowl with a mixer on medium speed until pale and fluffy, 2 to 3 minutes.
Add eggs, one at a time, beating well after each addition and scraping down sides of the bowl.
Add the flour and salt into the mixture and mix until combined.
Pour the batter into prepared pan. Bake cake until golden and a wooden skewer inserted comes out clean, about 50 to 60 minutes. Cool completely before turning out.