Fresh and simple Tomato Salsa, the highlight of this salsa is the fresh roma tomatoes that are in season. The roma tomatoes are perfect for this recipe because the low moisture and fewer seeds that that they have. This tomato salsa is made of few ingredients including tomatoes, onion, cilantro, jalapeno, lime,  and pinch of salt and pepper.
Tomato Salsa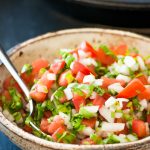 Tomato Salsa is one the easiest appetizers to make, enjoy this homemade simple tomato salsa.
4 large roma tomatoes seeded and diced
1/4 onion diced
1/2   jalapeno chilli diced
2 tablespoons chopped cilantro
1 tablespoon lime to taste
salt  and pepper to taste
Combine all the ingredients in a bowl and mix.
Let it stand for an hour before serving.