If you are looking for a warm delicious decadent dessert then you have come to the right place.  This sticky date pudding is made with spiced cake and dates, then toped with caramel sauce . This is an elegant dessert to for any occasion.
Sticky Toffee Pudding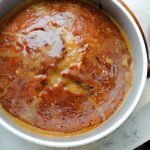 If you are looking for a warm delicious decadent dessert than look no further, this sticky toffee pudding will satisfy your sweet tooth.
Date mixture
1 1/2 cup dates packed
1 cup boiling milk
1/2 teaspoon baking soda
1/2 teaspoon cinnamon
1/2 teaspoon ginger
1/2 teaspoon nutmeg
Cake batter
1/2 cup butter
1/2 cup sugar
4 eggs
1 3/4 cup flour
1 1/2 teaspoon baking powder
Sticky toffee sauce
1 1/2 cup cream
1 cup sugar
1/4 cup butter
Sticky Toffee Sauce
Melt the sugar in a heavy medium saucepan over medium-high heat. when the sugar melts and the color changes add the milk and the butter while stirring
Date Mixture
Boil the milk in a pan, chop the dates add them into a heatproof bowl pour the hot milk over the dates, add baking soda, spices and mix well, let it sit for 15 minutes.
Cake Batter
Beat the butter and sugar in a mixing bowl add the eggs one at the time until combined add the flour baking powder and mix well.

Add the date mixture to the batter and mix. Pour the batter into prepared pan and bake for 45 to 55 minutes or until a toothpick inserted into the center comes out clean.

Let the cake cool in the pan. Once cool remove the cake from pan and slice into a portion size then drizzle generously the sticky toffee sauce.