Delicious spinach and strawberry salad made with baby spinach, fresh strawberries sliced, blueberries and crumbled feta and pecans. Drizzled over honey apple-cider vinegar. This salad is great for a crowd or as a side dish, watch it disappear.
Spinach Strawberry Salad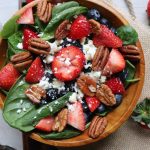 Salad:
5 cups baby spinach
1 pint  strawberries (sliced)
1/2 cup crumbled feta cheese
1/2 cup blueberies
1/2 cup pecans
Dressing:
1 tablespoon honey
1 tablespoon apple-cider vinegar
3 tablespoons olive oil
salt and pepper (to taste)
To make the dressing in a small bowl add honey, apple-cider vinegar, olive oil  and whisk to blend while seasoning with salt and pepper to taste.
In a large salad bowl add the spinach, strawberries, blueberries, pecan and the feta and toss together, just before serving  drizzle the dressing over it.