Yeast risen spinach and goat cheese braids, these lovely braids make a great snack or a side dish for your lunch next to your salad. The goat cheese and the spinach melt to gether and make a great combination for this braided bread. Enjoy it warm, they can be kept in the fridge for 3 days or in the freezer for 3 months.
Spinach Goat Cheese Braides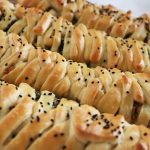 Braided yeast bread filled with spinach and goat cheese.
Dough
3 1/2 cups bread flour
1 1/2 tsp yeast
1 tsp salt
2 tbs olive oil
1 cup water
Filling
10 0z frozen spinach
1/2 cup parmesan cheese
1 cup ricotta cheese
1 cup mozzarella cheese, shredded
1 tbs olive oil
1 large egg
Glaze
1 tbsp milk or water
1 egg
To make the dough: Combine all the of the dough ingredients, and mix and kneed them together by hand or by a mixer until soft and smooth dough.

Allow the dough to rise covered in a warm place for about 45 to 1 hour or until doubled in size.

To make the filling: While the dough is rising, prepare the filling by mixing all the ingredients together until smooth. Chill until ready to use.

To assemble: Transfer the dough in a work surface and divide into four pieces. Roll each piece into a rectangle of 11″ x 7″. Spread one fourth of the filling lengthwise down the center third of each rectangle. Cut 1 inch from each side of the filling out to the edges. Fold one inch strip at a time across the filling alternating from side to side.

Transfer on a lined baking sheet. Let it rise for 45 to 1 hour, until puffed up.

Preheat the oven to 370F.

Whisk together the egg and the water/milk and brush over the braided bread. Bake the braids for 30-40 minutes or until golden brown. Remove and let cool on a rack.
The braids can be stored in the fridge for up to 3 days or in the freezer for 3 months.