Spinach, Date and Banana Smoothie
This super easy green smoothie will not only tick all the boxes for a health drink, but it will also satisfy your tastebuds as you taste the sweetness of the dates. A great post work out drink or simply to boost your green intake. All in all a feel good drink.
You can change up your smoothie with different fruits like Madjool dates and banana go so well together with this spinach smoothie,  you can also add spoonfuls of almond butter.Flaxseeds and chia seeds are great with this smoothie too. Enjoy!
Spinach Smoothie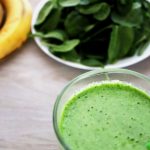 Madjool Dates and banana go so well together with the spinach smoothie.
1 banana (chopped)
1 1/2 cups milk
3 Medjool dates ( pitted and chopped)
2 cups spinach
Add all the ingredients in a blender and puree until very smooth.