Spinach and cheese fatayer,  these are Middle eastern hand pies, oval-shaped pies filled with sometimes cheese, meat etc. Here we are making the spinach and cheese fatayer made with ricotta and feta and chopped spinach, these are lovely for serving a crowd or a potluck party.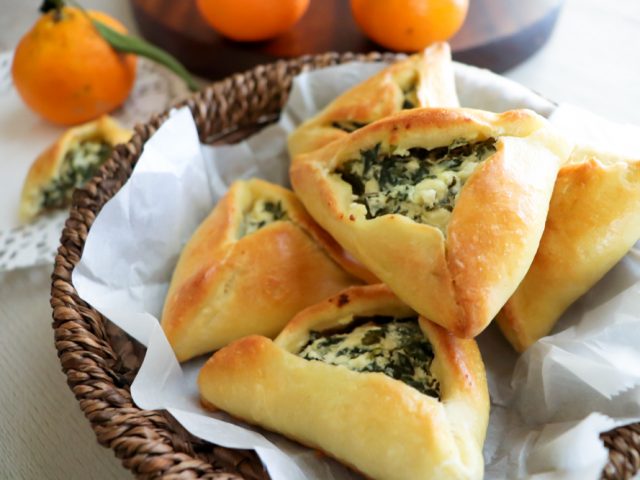 Spinach Cheese Fatayer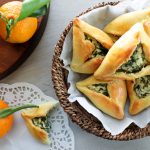 Spinach and Cheese Fatayer are Middle-eastern hand pies filled with different types of fillings they are very easy to make.
3 cups all-purpose flour
1/2 cup olive oil
1 teaspoon instant yeast
1 cup water
1/2 teaspoon  salt
1/2 teaspoon sugar
For the cheese:
1 cup fetta cheese (crumbled)
1 cup ricotta cheese
1/2  cup fresh parsley chopped
8 oz spinach (chopped)
1 egg (whisked)
salt and pepper to season to taste
Cheese filling:
Mix the cheeses, spinach, parsley and the egg in a mixing bowl, add salt and pepper to taste and chill until ready.
To make the dough:
In a mixing bowl mix the flour sugar, yeast, and salt add the olive oil and mix well.
Add the water and kneed to form a dough for about 5 minutes.
Cover the dough and let it rest for 20 minutes.
Knead the dough on a working surface with little flour and cut into small balls about 24 pieces,
roll each dough ball into an oval shape
spread one tablespoon of the filling in the center.
Fold one edge of the dough over leaving a space in the center press and seal. Then fold the other edge the same way and repeat this to all the dough balls.
Brush all the fatayer with melted butter and bake for 180c/350 for 15 to 20 minutes or until golden.