Roasted cauliflower and yams, these root vegetables roasted in the oven, I always change up for whatever vegetables are in season.  Every time I bake these vegetables it is always different. This recipe we used cauliflower, broccolini, potatoes,  Yams or sweet potato, and carrots after they bake fetta and cilantro is added to deepen the flavor.
Roasted Cauliflower and Yams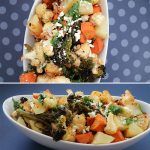 1 small head of cauliflower
2 medium potatoes
1 bunch broccolini
1 large sweet potato
2 tablespoon olive oil
1 teaspoon paprika
1 teaspoon salt
1/2 teaspoon pepper
4 ounce of feta cheese crumbled
1/2 cup chopped cilantro
Preheat the oven to 420 degree F.
Cut the cauliflower into small florets with a knife.
Dice the two potatoess into small cubes.
Place the vegetables on a large baking sheet drizzle with olive oil and sprinkle with paprika, salt and pepper.
Toss the vegetables to coat and spread out on the pan.
Bake for 30-50 minutes turning the pan halfway through. remove from oven when vegetables are tender and easily pierced with a knife.
Remove from oven and toss with the feta and cilantro.