Pita bread is stable in the middle eastern mostly famous for scooping with hummus, you will almost find it in every middle eastern restaurant, sometimes it is used as a wrap like shawarma meat or chicken also great with vegetables.
This yeast-risen Pita bread is easy to make at home it bakes up in less than 2 minutes each side, very satisfying to watch when it puffs up like a balloon. Once you know how to make your own Pitas you will never buy store bought ones again. These freeze well too.
[wprm-recipe-jump]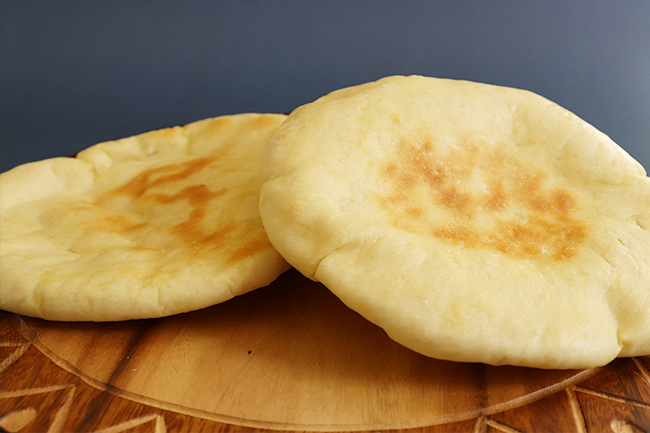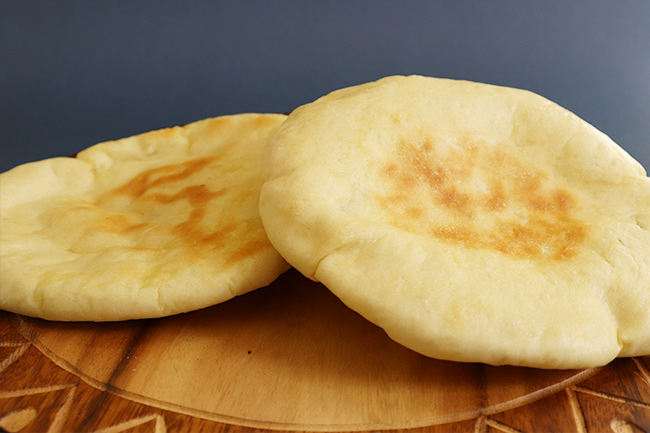 Pita Bread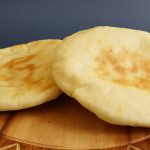 Homemade Pita Bread is easier than you think, once you try a homemade one you will never buy a store bought one again.
3 1/2 cups All-Purpose Flour
2 tablespoons olive oil
1 1/4 cup water
1 tsp sugar
1 tsp salt
2 tsp yeast
Combine all of the ingredients, knead the dough, for 10 minutes until smooth.

Place the dough in oiled bowl, and allow it to rest for one hour or until it doubled in size. Punch down then let it rest for another 10 minutes.

Divide the dough into 8 pieces shape each piece into a smooth ball. roll each piece into a 9-inch circle and place on a lightly greased baking sheet and allow them to rest for 15 minutes covered.

preheat the oven to 500F

Place the baking sheets in the oven and bake for 5 to 10 minutes they should puff up if not wait a little longer.

Wrap in a clean dry cloth or store in an airtight container.