Muhallabia is a simple pudding with milk cornstarch and sugar flavored with blossom here. Other flavorings include rose water etc. This recipe works best if used whole milk to get a rich flavor instead of lower fat milk. It is delicious on its own however this recipe calls for mango purée as a topping. You can equally replace the mango puree with any other fruit of your choice. Enjoy this delicious middle eastern pudding dessert.
Muhallabia With Mangoes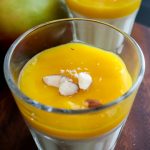 Enjoy this delicious middle eastern pudding dessert.
2 cups milk
1/4 cup sugar
3 tablespoon corn flour
1 teaspoon vanilla
1 tablespoon orange blossom water
1 tablespoon of butter
Garnish:
1 ripe mango chopped
Dry Fruits
Chopped Fruits
Cornstarch slurry:
In a small bowl add the cornstarch and two tablespoons of milk or water and mix until smooth.
Heat the milk and sugar in a saucepan on a medium heat, when milk is about to boil add the cornstarch mixture and mix constantly until mixture becomes thick remove from heat. Add the orange blossom water and mix.
Pour mixture into a serving glasses than refrigerate to cool for at least two hours.
Puree the chopped mangoes sweeten if you wish bu adding spoonful of sugar to taste. Refrigerate the mango puree.
Before serving top with the mango puree.