Masala chai is a spiced Indian tea beverage, Indian black tea brewed with spices such as fresh ginger, cinnamon, cloves, cardamom, peppercorns, and milk. Cooked on a stovetop, and served right off the burner. The best type of tea recommended here is Assam or Darjeeling, but other options for strong black teas bags are PG or Lipton. use more loose tea or bags if you like for a strong cup of chai.
Chai Masala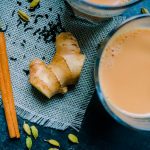 Served Piping Hot this Chai Masala will keep you warm on those cold days, without spending money on coffee shops, you save money and flavor when you make it homemade spiced Indian tea.
2 piece of ginger (chopped)
1 cinnamon stick
4 peppercorns
3 cloves
5 cardamom pods
1 tablespoon black Indian tea
1 cup milk
sugar to taste
In a saucepan put the spices, tea and milk add 4 cups of water and bring to the boil. boil for 3 minutes then add sugar if using.

Strain the tea into a large heatproof jug. Then pour the tea into serving cups and serve while still piping hot.