Serve this heirloom tomato and feta salad for those days where you don't want to serve a green salad, the heirloom tomatoes are so vibrant and delicious sprinkle with feta cheese and the lemon dressing and you have a simple yet wonderful tomato salad that is here to stay.
Heirloom tomato and feta salad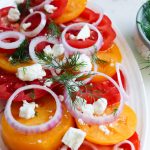 Bright vibrant and juicy heirloom tomato salad with feta cheese, a great way of starting any meal.
4-6 servings
1 lb Heirloom tomatoes (sliced)
1/2 red onion sliced
4 oz. feta cheese
2 tablespoons dill chopped
dressing:
3 tablespoons fresh lemon juice
3 tablespoon olive oil
1/4 teaspoon salt
1/4 teaspoon black pepper
Whisk the lemon juice, olive oil, salt, and pepper until blended.
Arrange tomatoes and onions into a large platter sprinkle the feta over the tomatoes.
Drizzle the dressing evenly.