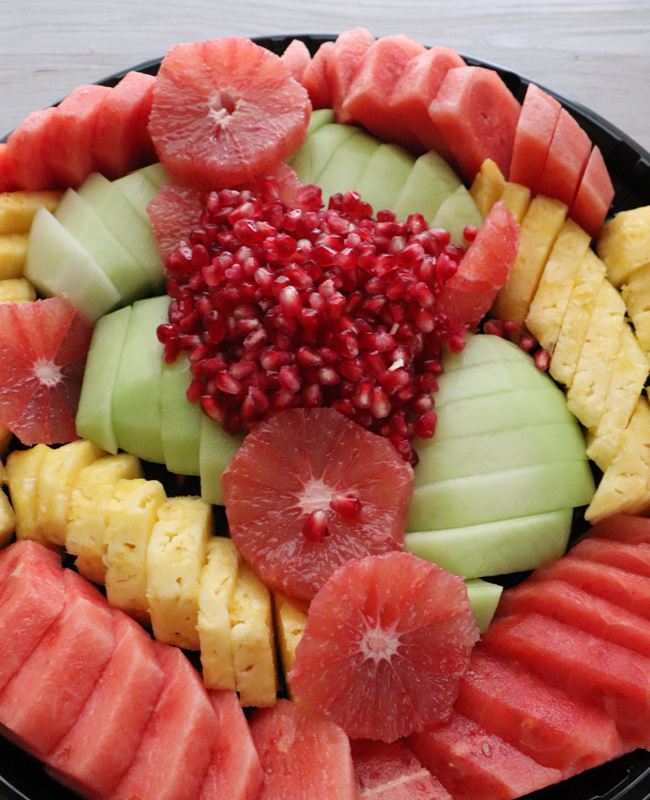 Making your own fruit plater is not only cheaper than buying from the store, but it is a lot a lot fresher than buying and you got to choose what goes in the fruit plater accordingly.
The selection of fruits are limited by the season and each season you can work around it to create fruits that are available-in season for potlucks, parties or for any event.
In this fruit plater, I have used Pineapple, cantaloupe, melon, grapefruit and pomegranate seeds. However you can use any fruit that you might like, I hope you will enjoy it.
Fresh Fruit Platter
1 Pineapple peeled cut
1 cantaloupe peeled cut in half and sliced
1 small water melon cut in half peeled and sliced
1 grape fruit peeled and sliced
1 cup pomegranate seeds (1 large pomegranate)
Arrange the watermelon on the edges of the platter.

place the pineapple and cantaloupe inside the platter.

arrange the pomegranate and grapefruit on top of the fruit.

Cover tightly with a plastic wrap and refrigerate until serving.

It is best to be arranged this fruit tray on the day of the party.