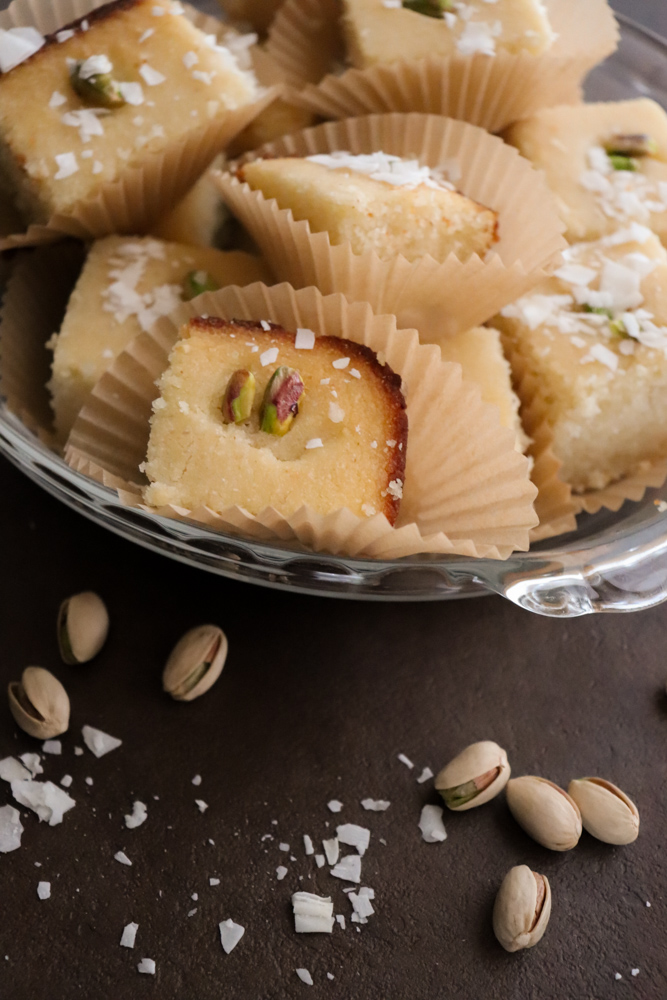 This version of Coconut Basbousa (Basbosa) Semolina Cake is very moist and delicious if you have a sweet tooth then this is the right recipe for you a little slice of the cake goes a long way and can be shared by a crowd the cake is best eaten when cooled down and all the syrup seeps in the cake when cut because of the syrup that
Ingredients:
2 cups coarse semolina

1 cup fine ground semolina
1 cup unsweetened coconut
1/2 cup sugar
2 teaspoons baking powder
2 cups of milk
1 cup yogurt
1 cup melted butter or oil
for the syrup:
3 cups of sugar
2 cups of water
Instructions
Preheat oven to 350F and grease a 9×13 inch sheet cake pan.
Combine the semolina, coconut, sugar baking powder in a large bowl and mix until combined.
Add milk, yogurt, and the butter or oil to the bowl and mix until there are no lumps and it all mixed.
Pour the batter into a prepared pan let it stand for about 30 min to 1 hour on the counter, slice before baking and decorate with nuts and bake until the edges begin to pull away and skewer inserted comes out clean about 30-45 minutes.
Pour the syrup over the top of the cake while the cake is hot.
Cool and slice the cake.