Cinnamon Date Bread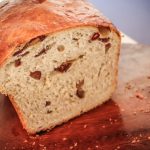 31/2 cups all-purpose flour
1 tablespoon sugar
2 teaspoons salt
2 teaspoons instant yeast
1 teaspoon cinnamon
2 tablespoons oil
1 egg
3/4 cup water
1/2 cup milk
1 cup chopped dates
In a mixing bowl stir together the dry ingredients: flour sugar salt yeast and cinnamon. add the oil, egg milk, and water.

Knead or on a medium speed to a soft and pliable dough, as you go you might need more flour or water. Add the dates and kneed distribute evenly and kneed for few minutes.

Let the dough rise in a greased bowl covered at room temperature and let it sit until it doubles. This will depend on how the temperature in the house is, it could take 45 minutes to 1 1/2 hours.

Punch the dough down and shape the dough into a log and place the log in a greased loaf pan 81/2" 4 1/2" and place it in a loaf pan cover loosely with lightly greased plastic wrap. Let it proof for 60 minutes or until almost doubled in size.

Preheat the oven to 350 and bake for 40 – 50 minutes or until it registers 190 and the top is golden.

Let it cool for 1- 2 hours before slicing.