Autumn my favorite season is upon us and for me, this is the time of year I like to prepare a warm cozy hug in a pot type of food. Biryani is my ultimate go to when I want to make rice for the family. It's warm spices, the tender pieces of chicken create a deep floured one pot aromatic dish that the whole family can enjoy. And here is how I do it:
This Chicken Biryani Recipe is a great way to prepare biryani if you are just starting out, what makes this Chicken Biryani so easy is the fact that we used here Shan Bombay Biryani Mix. This mix has all the spices you need for a biryani base. Once you make this dish a couple of times it will be easy for you to start making your own Biryani spice mix and mix and match all your favorite spices.
Chicken Biryani Recipe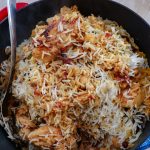 This Bombay Biryani gets better the next day, the flavors melt together and after you reheat you will be surprised the aroma from this will improve over time.
2 pounds Chicken breast slices
31/2 cups Basmati Rice (soaked for 30 min)
2 medium onions finely chopped
3-4 medium tomatoes sliced
2 medium tomatos
2 tablespoons garlic paste
2 tablespoons ginger paste
1 cup/ 200g yogurt (plain)
1/4 cup oil canola
2 tablespoons Shan Special Bombay Biryani Mix
In a large pan boil water and salt add the rice and boil for 3/4 done, the rice will be cooked again so we do not want to cook all the way.
Remove the rice and drain in a colander. Keep this aside.
In a large pan fry the onions with the oil until.
Add the meat garlic paste ginger past, yogurt, potatoes, and the Shan Bombay biryani mix. stir and cook for 10 minutes
add about 1 cup water.
cover and cook on low heat until meat and potatoes are tender

Increase heat and stirfry until oil separates from the gravy.

Spread the rice on top of the chicken curry. Cover the pot and cook on a low heat until rice is fully cooked about 10 minutes.

Serve warm.
This Chicken Biryani will be great if you prep a head for you next potluck. All you do is reheat in the oven and no one will know when it was made.
Using a good quality Basmati rice helps too, not brown basmati rice for this recipe I wouldn't recommend since what you want is fluffy Biryani and the white Basmati rice will deliver that.