Who doesn't love baked pasta with ground beef and bechamel sauce( cheesy sauce) it is one of those dishes that brings families and friends alike together for a relaxed cozy meal around the table. It is so good that I like to make extra for freezing later but none make it to the freezer as often everyone goes for seconds.
Baked Pasta with Ground Meat and Bechamel Sauce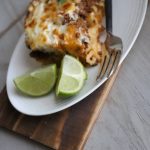 Lovely Baked Pasta with ground meat topped with cheesy bechamel sauce.
Ground Beef Mixture
1 onion
2 tablespoons olive oil
3 cloves garlic chopped
2 pounds 500g ground beef
4 to matoes chopped
2 tablespoon tomato paste
2 tablespoon chopped parsley
Bechamel Sauce
1 stick butter
1/2 cup flour
4 whole cups milk
Salt and pepper
Pasta
1 lb shell Pasta or any other shape
Beef

In a blender purée, the tomatoes parsley and garlic set this aside.

Sauté the beef in a large saucepan with oil on a medium high and cook until all the water evaporates and the meat is brown, season with salt and pepper. Add the tomato paste and cook for few more minutes. Now add the tomato mixture and cook for about 20 minutes.

Pasta

Cook the pasta per package directions.

Reduce the cooking time since the pasta will be cooked again in the oven.

Bechamel Sauce

Melt the butter in large saucepan on medium heat

Add the flour and whisk until there are no lumps for 2 to 3 minutes

Now add the milk and whisk again for a smooth sauce, continue stirring until the sauce comes to a full boil, stir for few more minutes season with salt and pepper. Add the cheese and mix until incorporated then turn off the heat.

Assemble

Butter bottom of a 9×12 baking dish.

Layer pasta and top with third of bechamel sauce

Add the beef sauce and top it evenly

Pour the rest of bechamel sauce and sprinkle with cheese

Bake in 375-degree oven and bake for 35 minutes or until bubbly

Increase the temperature to 425 degrees and bake for another 20 minutes or until the top is golden brown.

Remove from the oven and let it rest for 20 minutes. Then serve.