This recipe of Almond and Semolina Peach Cobbler we have used almond flour for a nutty flavor and paired semolina flour for a lovely crunch. Blueberries change the color and texture when the cobbler bakes and it goes well with peaches. Try also other berries like raspberries and cherries are great alternatives.
Almond Semolina Peach Cobbler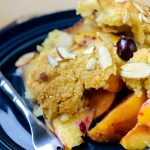 Filling:
5 large fresh peaches (sliced)
1/4 cup sugar
1 cup blueberies
3 tbs almond flour
Topping:
4 tablespoon butter
1/2 cup sugar
2 eggs
1/2 cup almond flour
1/2 cup semolina flour
1 tsp baking powder
1/2 teaspoon salt
2 tablespoon turbano sugar
2 tablespoon almond slices
Preheat the oven 350,
Topping
In a mixing bowl, mix butter and sugar and beat until smooth, add the eggs and mix,

add almond, semolina flour, baking powder, and salt mix until combined.
Filling:
In a baking glass add the peaches, blueberries, almond flour, and the sugar then mix.

Spoon the topping over the peach mixture. Sprinkle almond slices and turbano sugar.
bake the cobbler for 50 to 55 minutes.
or until  bubbly and golden